Hot Spot of NPC&CPPCC: How to Implement the "Intelligent Transportation" in 14th Five-Year Plan?
2021.04.07
2021 is the very first year of China's 14th Five-Year Plan. The plan proposes to stick to the central position of innovation in the overall development of China's modernization and make technological self-reliance a strategic support for China's development. The plan also raises future plans of "accelerating building a digital society", "building smart cities", "exploring the construction of digital twin cities", etc. During Two Sessions, "New Infrastructure Construction in China", "Smart City", "Intelligent Transportation", and other related issues remained unabated. Many deputies to the National People's Congress (NPC) actively made propositions to the topic of "Intelligent Transportation".

Robin Li (founder of Baidu): Accelerate Commercial Use of Automatic Driving and Promotion of Intelligent Transportation
Robin Li said that transportation is one of the most concerned issues for public as well as an important area of carbon emissions. It will effectively reduce traffic congestion, make people's travel more environment-friendly and more convenient so as to achieve the balance between peak carbon dioxide emissions and high-quality economic development through vigorously developing low-carbon transportation, using new technologies such as AI and 5G, accelerating the commercial use of automatic riving and the promotion of intelligent transportation. He suggested that Chinese government should further strengthen policy innovation to support the commercial use of automatic driving and the promotion of intelligent transportation and meet people's demand for excellent travel so as to realize the peak carbon dioxide emissions in transportation as soon as possible.
Wang Xianjin (From China Academy of Transportation Sciences): Intelligent Transportation Needs Guidance
Wang Xianjin, a member of the national committee of CPPCC, Vice President of China Academy of Transportation Sciences, said that it is an important part of social governance to address urban traffic congestion. Treating "symptoms" and "root causes" are of equal importance. The government should fully take its responsibilities and citizens should follow the principle of civilized travel. To sum up, a comprehensive, detailed and humanized governance with multiple sides engaged is needed.
To develop intelligent transportation and improve the service of information platform, more emphasis should be assigned to guiding and regulating the development of "Internet+", including shared transportation. Furthermore, the key is to continue to vigorously develop public transportation and meet the travel demand which is more diverse and advanced.
Li Zhijun (a member of the national committee of CPPCC): Promote Integrated Development of Smart Cities
Currently, problems such as inconsistent construction standards across China, isolated enterprise applications and uncertainty of business entities lead to the high cost of road reconstruction, low utilization rates. Consequently, the actual application value is hard to evaluate and a large amount of government's financial investment receives no positive results. In a long term, the passion and investment of the central and local enterprises would be diminished. The follow-up industries would also be negatively impacted.
It is recommended that Chinese government should assign its related department to set up a joint inter-departmental working group, clarify the approval process, and actively promote the development of the functions and the landing of application scenarios in terms of cooperative vehicle infrastructure. At the same time, during the 14th Five-Year Plan period, it is suggested that all relevant departments should focus on how to efficiently utilize urban space, reasonably plan parking lots and infrastructures for charging, adjust the structure of energy supply, address urban congestion and improve urban transportation efficiency.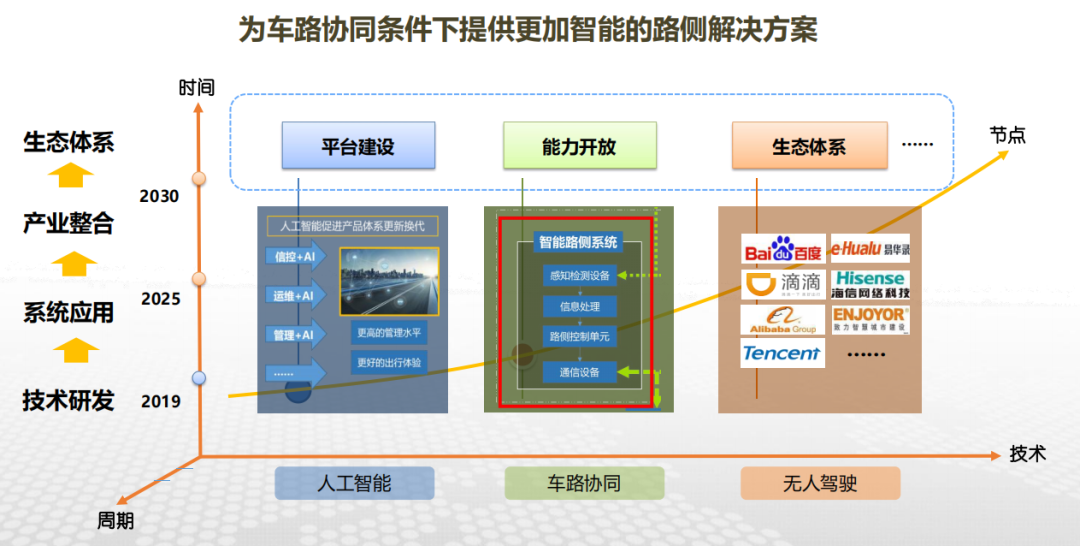 At present, cities in China are witnessing the alternated governance models of old and new, rapidly increased urban population and booming information technologies. The construction of new smart cities has become an important platform for many cities in China to build new development strategies. In fact, as a promoter of intelligent transportation, Duolun Technology has participated in the construction of smart cities on the basis of smart transportation to build a whole-chain development of smart industry.
Based on intelligent transportation solutions with "Intelligent Signal Control", "Intelligent Regulation and Control", "Intelligent Maintenance and Operation" and "traffic big data" as its core, Duolun Technology has made independent R&D, carried out diverse IUR and invested more in "5G+IoV+AI" to create an integrated intelligent transportation solutions based on "people-vehicle-road-cloud".
In projects such as the multi-target MMW radar signal control adaptive system, Duolun Technology's AI signal control system based on online simulation and reinforcement learning has been applied. It is effective and has welcomed by customers.
The company has also developed an urban vehicle-road cooperative solution based on the digital infrastructures of "5G Communication Network + BeiDou All-round High-precision Navigation Network + All-round HD Map", creating products based on the "System Guaranteeing the Special Vehicles' Priority Based on High-precision Positioning". With the vehicle-road cooperative technology, it is possible to realize the safe traffic priority of special vehicles such as buses, fire engines, ambulances and emergency vehicles.
The combination and perception of multi-dimensional information is a key technology for future application of IoV. Duolun Technology cooperates with Southeast University, Jiangsu Industrial Technology Research Institute and other universities and research institutions to research traffic environment perception technologies based on video/ MMW radar/lidar and apply them to traffic scenarios such as pedestrian/electric vehicle safety warning and blind zone warning so as to make roads safer and smoother.
As the first year of the 14th Five-Year Plan, 2021 is important for Two Sessions. The construction of smart cities together with the landing of intelligent transportation is a strategic goal for sustainable development. In the new era, it is an inevitable issue for city governors to improve the ability of city governance via new techniques, which is also a challenge and opportunity for enterprises like Duolun Technology.
In the future, we will take the construction of a new smart city as the main task and join hands with upstream and downstream enterprises in the industry chain from infrastructure construction to intelligent applications to actively provide technology and information support and services for the modernization of urban governance systems and governance capacity so as to make contributions to the Chinese digital economy.